Phew! 5 down, 2 more to go! Today's mani is Bobbie Mudslide. A light brown/ nude holo. It's a very nice, soft kind of holo. I'm digging this look, perfect for the office, school or formal events. Best of all, it took me 2 coats. 2 coats ladies! not 3,4 nor 5! Just 2! Thanks Bobbie!! Its already a 1 coater, but I can still see VNL's peeking through so I added another coat. Application was like butter. Probably one of the best Bobbie's that Ive tried!
Under direct sunlight.
The holo can be seen much better in low light. Also its a scattered type of holo.
This is indoors, direct sunlight. Much better =)
And for the effect: ( I enjoyed making this part! =p)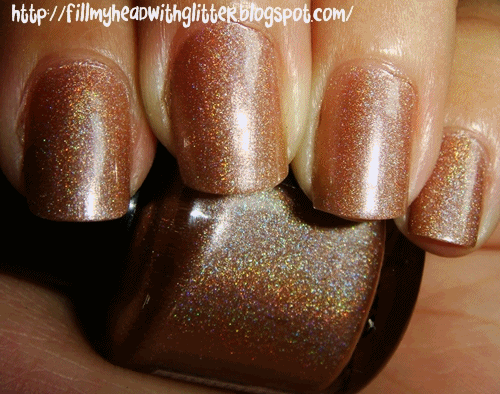 I'm thinking of doing nail art again with this mani, hmm.. I need new ideas.
That's it for me today!
Camille
You might also want to read about the other Bobbie Holoprisms.