Time for Bobbie Vodka Ice but I heard that its too sheer. I don't want to waste my time by painting 5 coats of polish so I layered it instead. I used Barielle U Concrete Me as base. But before I show you the layered mani, let me show you Barielle U Concrete Me first.
I also clipped my nails because I was so irritated with it. It felt like I had witch nails.
Barielle U Concrete Me- A beautiful gray cream that's very easy to apply, although I wasn't really happy with the brush. It was a bit uneven. But that's just the flaw, I'm loving this simple gray cream.This was 2 coats and drying time was good.
Now I'll be showing you the layered mani.
Bobbie Vodka Ice- a sheer silver holo. The holo effect is scattered so I'm not that impressed. I like linear ones. This was 2 coats, formula and brush was ok.
You won't see it that much if the picture's taken with flash.
Overcast. The effect is still barely noticeable.
I changed the settings of my camera so I can capture the effect. Although it just made my fingers look horrible.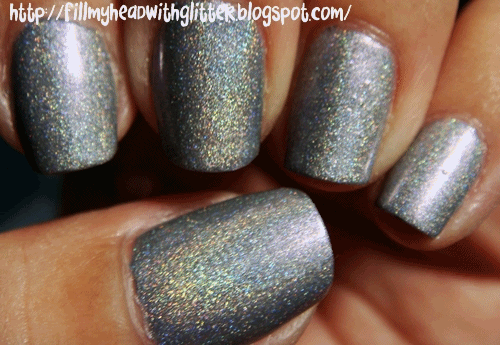 I hope it helps.
Oh and I don't dig this look so much. I don't know, maybe my base is too dark for it? Maybe I should've layered it on silver. Would it work? How about you, what do you think?
You might also want to read about the other Bobbie Holoprisms.